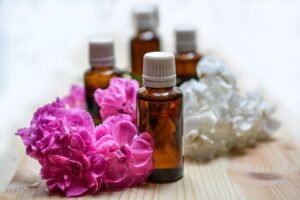 Essential oils have long been used in traditional medicinal practices as a way to nourish the skin, alleviate discomfort, and improve the overall appearance of the complexion. With such an abundance of available skin oil products, it's easy to become overwhelmed. This article aims to narrow it down to 5 of the best oils that can be used for various skin concerns.
The first oil that must be mentioned is Argan oil, which is primarily derived from the nuts of the Moroccan Argan tree. It's been known to reduce the appearance of wrinkles and can even protect against dark spots. Argan oil is well-known for its skin-nourishing properties because it's loaded with essential fatty acids and vitamins, such as Vitamin E. This oil is known to be gentle on the skin and can be used as a "cure-all" for skin problems, such as dryness, acne, and eczema. Contact dermatitis can also be helped by applying Argan oil.
The next oil that deserves recognition is Coconut oil. It has become increasingly popular in recent years due to its stellar skin-nourishing benefits. The lauric acid in coconut oil can help reduce inflammation and irritation caused by eczema and psoriasis. Coconut oil can also increase the skin's elasticity and help minimize the appearance of wrinkles and fine lines. Additionally, this oil is known to help naturally moisturize the skin and even lessen the severity of sunburns.
Another oil that's highly recommended for skin health is Jojoba oil. Most notably, this oil is known to soothe dry skin and even control skin oil production. Jojoba oil is similar in structure to the natural oils that our skin produces, and therefore can be incredibly helpful in restoring balance. Jojoba oil not only has moisturizing properties but also serves as an effective antioxidant, which helps to protect the skin.
Moving on, the next skin-saving oil is Neem oil. This oil is fantastic for nourishing the skin and has antiviral and antifungal properties, as well. Neem oil is especially beneficial in treating common skin issues such as blemishes, eczema, and even psoriasis. Neem oil should be applied topically and left overnight for maximum results.
Tea tree oil is another excellent addition to any skin care routine; it contains antiseptic and antifungal properties which makes it perfect for treating blemishes. It also helps the skin to heal faster, such as in cases of bandages or scrapes. Tea tree oil is also known to reduce dark spots, scars, and even patches of dry skin.
Overall, Theses essential oils provides wonderful benefits for your skin. It is suggested that you do a skin test with these oils first before application, as some persons may have sensitive skin.